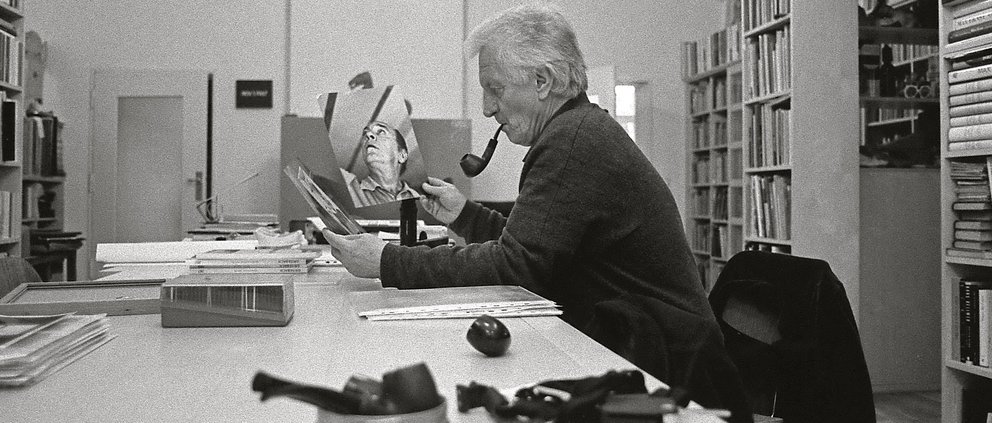 Egidio Marzona
Egidio Marzona was born in Bielefeld in 1944, into a German-Italian family of industrialist. His approach to collecting was strongly influenced by the prevalent notion of art of the 1960s, particularly by conceptual art. He was interested not only in the artwork itself, but also in the artistic process and the artist's environment, including materials that were generated along the way. He acquired his first pieces in 1968, favoring Arte Povera and artists such as Robert Ryman, Marcel Duchamp, and Joseph Beuys, and the desire to understand bigger contexts and gain further insights grew. Young gallerists such as Konrad Fischer, Rolf Ricke, and Heiner Friedrich became valuable interlocuters for Marzona, connecting him with contemporary artists of the time. Another important influence on the collector was the architect and art collector Heinz Rasch who worked at the Weissenhof Estate in Stuttgart and would become Marzona's mentor.
In 1972, Marzona opened his own gallery in Bielefeld, only to abandon the project relatively quickly in favor of founding his own publishing company, Edition Marzona. His first publications were dedicated to the great topic of Bauhaus and its artistic context which, up until that point, had been given but little attention. Within the framework of preparing his publications, Marzona gathered together his plethora of artworks, design objects, drawings, plans, posters, documents, and ephemera from diverse artistic and architectural movements of the avant-garde, from Futurists, Dadaists, Constructivists, and Surrealists to Werkbund, Bauhaus, HfG Ulm, and Black Mountain College. The art, design, and architecture of the 1960s up until the 1980s, including Fluxus, conceptual art, the Structuralists as well as Post-modernists, the Neuen Wilden and Memphis, round off this formidable collection.
Once he had ended his activity as a publisher, Marzona began sorting through, organizing, and completing his collection by means of research and new acquisitions, as well as systematically documenting his heterogenous compilation of materials from the fields of art, film, literature, music, design, and architecture. He was also able to acquire complete archives from art and architecture critics.
In 2002 and again in 2014, Marzona gifted parts of his art collection and corresponding documents from his archive to the Berlin State Museums (Prussian Cultural Heritage Foundation). Then, in the summer of 2016, the collector announced that he would be donating his extensive archive to the Staatliche Kunstsammlungen Dresden. The deed of donation was signed on December 6, 2016.